Designed to contain leaks or spills from their loaded materials, spill containment pallets are surfaces for shipping and storage. Pallets are frequently used for the storage and transportation of hazardous materials. Drum pallets carry explosive, toxic, or hazardous substances that flow freely, as well as substances that might not be dangerous yet leak from their containers and damage neighboring goods. Read More…
Spill Containment Pallets
Spill containment pallets are shipping and storage surfaces that are designed to contain leaks or spills from their loaded materials. Pallets are used widely for the transportation and storage of hazardous materials.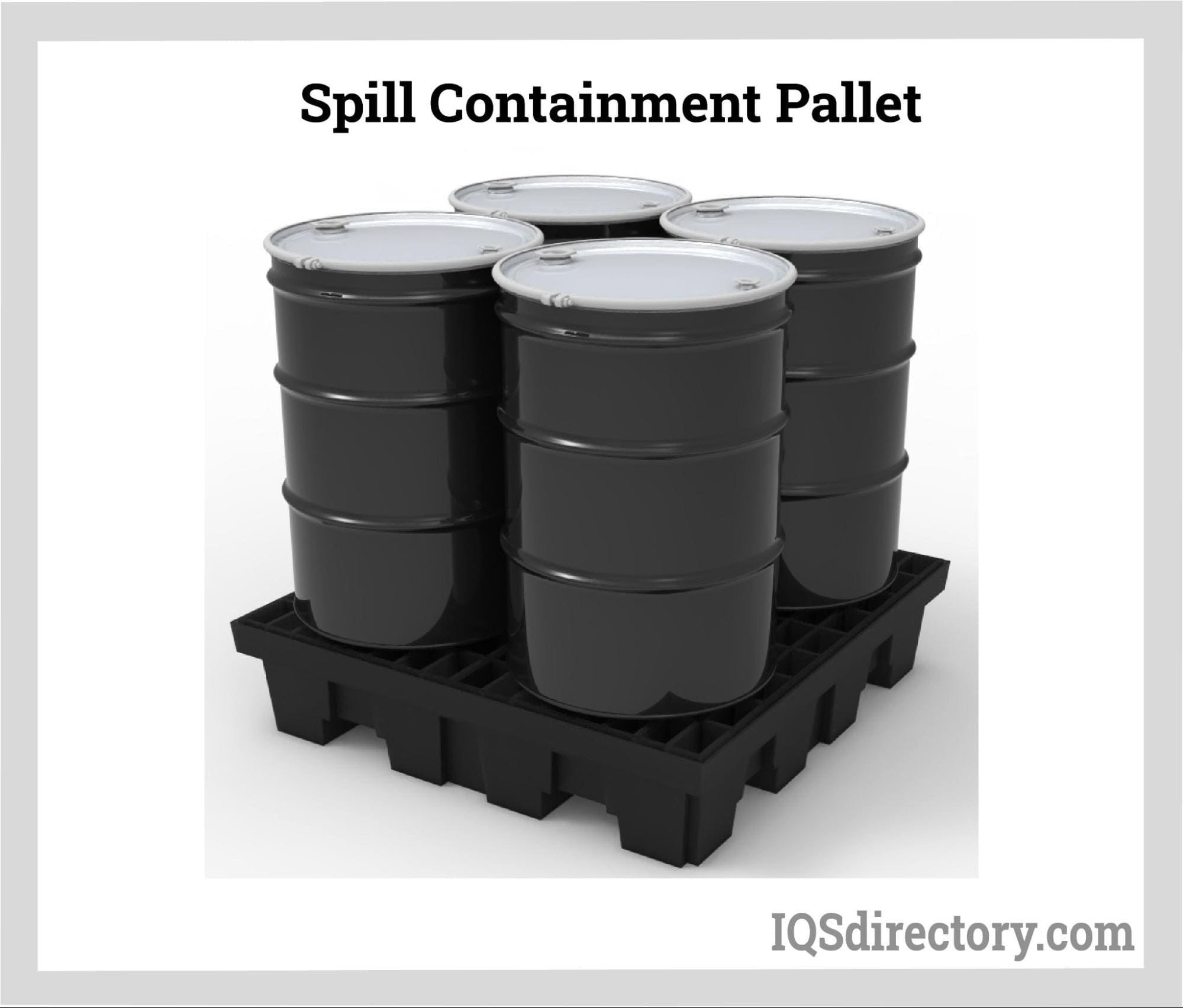 Considerations When Choosing Spill Containment Pallets
It is crucial to select the proper spill containment pallets. The wrong kind may not only be bothersome but also fail to protect from spills and leaks. For instance, high-density polyethylene (HDPE) is typically used when building pallets. HDPE has superior chemical resistance, and durability, and is easy to clean.
However, fluorinated variants are used when corrosive or aggressive fluids are incompatible with polyethylene. Unlike the typical chemical barrels, which are yellow, these pallets are a light blue color. Another option for HDPE containment pallets is heavy-duty steel. Steel is a good material option for storing flammable liquids because of its great chemical resistance.
Materials in Spill Containment Pallets
Regulations governing containment pallet design have been created by regulatory agencies like the United States Environmental Protection Agency and apply to the storage and transportation of hazardous items. Due to its inherent resistance to corrosion and heat, high-density polyethylene, or HDPE, is frequently used when building spill containment pallets.
Contrary to other plastic pallet types, most containment pallets must undergo compatibility testing to verify the plastic will not corrode or react negatively with the material it is intended to hold. For instance, HDPE can be inappropriate for containing hexane spills despite being extremely resistant to acetone and calcium sulfate.
Types of Spill Containment Pallets
There are numerous spill containment pallet options depending on the kind of material being kept. Modular platforms or pallets, covered spill pallets, trays or bins, stackable pallets, and portable pallets are the five basic categories of spill containment pallets. Each type of containment pallet has a feature designed for certain usage. For special storage needs, modular spill containment pallets can be made to order. The greatest alternative for outdoor use is covered spill containment pallets; they prevent spills, which safeguard the environment and keep the rain out, safeguarding the stored goods.
The simplest type of containment pallet is used for smaller containers and is called a spill containment tray or basin. Because Manufacturers may stack them vertically, stackable spill containment pallets use space most effectively. When dispensing liquids from the pallets, spill containment pallets help to prevent leaks. When the chemicals are needed in several locations throughout a specific workspace, it's wise to use portable spill pallets.
Spill Platforms: These platforms, which come in the most common pallet shape for spill containment, are also available as modular pieces that can hold an infinite number of drums. Most of these spill platforms are low profile, making it simple to lift drums from wooden pallets onto them. Forklift pockets are present on platforms with a larger profile and capacity.
Economy spill pallets: These spill pallets in the tray shape cost less than regular spill platforms. These models can come with fixed grates. A more recent, versatile variant that can accommodate up to six drums also features spill control.
Outside drum storage: These sturdy, weather-resistant storage pallets will maintain one's outside drums EPA-compliant and shield them from the elements when searching for an outdoor spill pallet. Units with a lockable cover provide security against bad weather as well as against unlawful entry.
Advantages of Spill Containment Pallets
Saving time - Although businesses try to prevent dangerous products from spilling while being moved, accidents happen. These spills are extremely challenging to clean up safely and take a long time when using regular pallets. The cleanup process can be risky, expensive, and endanger workers. However, using spillage containment pallets makes cleanup simpler because they automatically gather the relevant elements.
Long life - Spillage containment pallets are made of high-quality plastic resistant to moisture, chemicals, contaminated dust, and mold. They are resistant to deformation. They are valuable because manufacturers can use them for up to 10 years.
Safety of Employees - Employees are constantly in danger in businesses that transport hazardous liquids. This risk increases dramatically if spill containment pallets aren't used. However, manufacturers can prevent leakage by using the right spill containment pallets.
Simple to clean - Pallets used for shipping will probably need routine cleaning because spill control is a necessary part of spill containment. Pallets for spill containment are made of plastic and feature moisture-resistant, heat-sealed surfaces. Therefore, they are easily cleaned with steam or other inexpensive techniques. So, regardless of how high the product's hygiene standards are, plastic pallets can be reused frequently without posing a sanitation risk.
Transportable - Many spill containment pallets are made expressly for warehousing and transportation operations. They are designed for quick transport by forklifts or pallet jacks and are designed to be stackable.
Choosing the Correct Spill Containment Pallet Manufacturer
To ensure you have the most positive outcome when purchasing spill containment pallets from a spill containment pallet manufacturer, it is important to compare several companies using our directory of spill containment pallet manufacturers. Each spill containment pallet manufacturer has a business profile page highlighting their areas of experience and capabilities, along with a contact form to directly communicate with the manufacturer for more information or request a quote. Review each spill containment pallet business website using our patented website previewer to quickly learn what each company specializes in. Then, use our simple RFQ form to contact multiple spill containment pallet businesses with the same form.
Spill Containment Pallets Informational Video